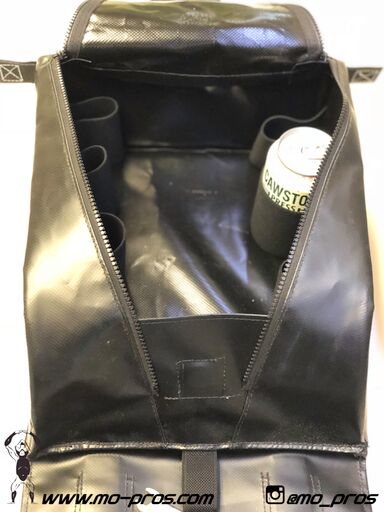 New Product: EMPIRE BAG
Our latest addition to the product line is the EMPIRE Bag (Patent Pending). The Empire Bag 'Eliminates Major Problems In Retaining Essentials.' This Bag is 100% waterproof, thermally insulated, and features an ABS rigid bottom.
The Empire Bag offers zero impact to your engine coolant temperatures because it actually rides 1.5" above the tunnel itself. This allows for continual clean fresh snow to provide the cooling your snowmobile actually needs. Too icy on the trail? Not to worry, you can even access in between the bag and the rack, loading snow on top of your tunnel, getting to those higher elevations.
The Empire Bag:
- Won't Freeze
- Won't mildew
- Won't Tear
- Contains elastic storage loops
- Thermally Insulated
- Magnetic Closures
- Ground/Snow flap
It's a rugged bag that takes road grime from trailers and won't be ruined if you leave it outside or forget about it. Pressure wash the inside, outside, whatever. The 100% waterproof material dries incredibly fast after washing and ready for unlimited use.
A typical backcountry BackPack has 20L of storage and the Empire Bag (10L) is specifically designed to: - Increase your overall storage by 50%
- Decrease BackPack weight 50% to keep your legs fresh for maximum slayage.
The Empire Bag has a magnetic closure to line up the waterproof YKK zippers perfectly, and expandable loops to allow for securing all types of random cargo inside the bag; it's guaranteed to not to explode anything ;) The loops are also perfect way for ratcheting straps, bundles of rope, kates real food bars, first aid kits, wrap sandwiches, or anything else. Don't need a loop? Fold away flat and ignore them.
Each Empire Bag is also equipped with a ground/snow flap so you can empty contents on a waterproof surface for tools, goggles, gloves, or even your sandwich.
This is your smoothest access to the hills.